On May 23, the Department of Health and Human Services (HHS) released the US's first government Essential Medicines Supply Chain and Manufacturing Resilience Assessment report. Addressing pharmaceutical supply chain constraints identified in the Biden-Harris Administration's 100-day supply chain review report from 2021, it's particularly focussed on a group of critical drugs on the Food and Drug Administration's essential medicines list.
The report offers a variety of "strategies and implementation actions" to address vulnerabilities to the supply of these drugs including:
Increased supply chain coordination, security, and transparency
Expanded onshore or nearshore production capacity
Advanced manufacturing capabilities and innovative research and development
Purchasing, stockpiling, and distribution approaches.
It's likely to be the last time anyone asks nicely. In fact, legislation to force pharma businesses – and those in other critical sectors – now looks inevitable. As the report itself noted, "Many of the solutions proposed will need to be combined into an integrated strategy to achieve the end goal of a more resilient pharmaceutical supply chain. A long-term commitment from the government, through budgetary, regulatory, or policy actions, is needed to change the current paradigm."
If businesses have not already invested in technology like SCAIR® to evaluate, map and strengthen their supply chains, they may soon wish they had.
The Long March to Regulation
As it is, the writing has been on the wall for a while. The resilience assessment is only the latest development following growing pressure throughout the pandemic, culminating in President Biden signing Executive Order 14017 on America's Supply Chains.
"The United States needs resilient, diverse, and secure supply chains to ensure our economic prosperity and national security. Pandemics and other biological threats, cyber-attacks, climate shocks and extreme weather events, terrorist attacks, geopolitical and economic competition, and other conditions can reduce critical manufacturing capacity and the availability and integrity of critical goods, products, and services," it began.
It kicked off a review of supply chains for four critical products: semiconductors and advanced packaging; high-capacity batteries, including electric-vehicle batteries; critical minerals and materials, including rare earth elements; and pharmaceuticals and active pharmaceutical ingredients (APIs).
That was followed by the 100-Day Supply Chain Review and, in February, marking the anniversary of the Executive Order, the White House's "capstone" report, detailing progress to date. The latter was also supported by seven more details sector reports – from the Departments of Energy, Transport, Agriculture, Commerce, Defence, Homeland Security and, crucially for pharma, Health and Human Services (HHS) published the same day.
Again, the anniversary review was clear that progress was being made. The Supply Chain Disruptions Task Force (SDTF) established by the administration had helped bring down the long-dwelling containers in the docks at the country's two largest ports by more than 70 per cent, for instance. It was equally clear, though, that there was still much work to do.
A Need for Supply Chain Visibility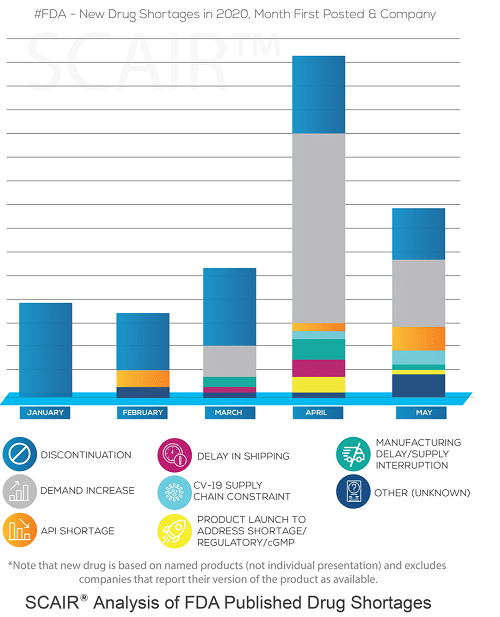 With medical supply chains, specifically, the capstone report noted that the pandemic had exacerbated long-standing vulnerability in supply chains. This weak position was reflected in the rising number of new US Drug Shortages pre-pandemic, and formed the subject of a study performed by a consortium of UK companies and leading universities back in 2018.
"Factors that contribute to the lack of security in public health supply chains include reliance on foreign sources for components of public health supplies, focus on lowest-cost reducing diversity across the supply chain, workforce shortages, financial barriers to entry and expansion, and lack of visibility and coordination across the supply chain," it stated.
These challenges existed prior to the COVID-19 pandemic, but were brought to the fore when the United States faced challenges in procuring enough supply and effective distribution of personal protective equipment early in the pandemic response.
The HHS report, meanwhile, had more detail on the challenges facing various different product groups, including vaccines and pharmaceuticals.
This stressed the importance of pharmaceuticals to public health and outlined the characteristics of a robust pharmaceutical supply chain:
The capability to manufacture "certain high-quality products" domestically
Diversification of the drug supply chain
Supply chain redundancy (with multiple manufacturers for products and their precursors).
"At present, the US Government has limited visibility into the supply chain for most pharmaceuticals," it added. It's questionable how long that situation will be allowed to last.
As consultant PwC noted back when the Executive Order was made, "C-suite executives should recognize that the ground is shifting in supply chain planning. Improving your organization's abilities to anticipate supply shocks and policy changes, and then coordinate your response, is crucial."
SCAIR®: Getting Ahead of the Game
Of course, change won't come overnight. Many of the February plans require legislation, while other parts require international cooperation. If legislation does come, it may prove a blunt tool.
"The plan at times also oversimplifies the complexity of global value chains, whether in rare earth minerals, semiconductor products, or APIs [active pharmaceutical ingredients," warns the Centre for Strategy & International Studies (CSIS). It also remains unclear exactly what might be required and the extent to which government will opt for regulation, against guidance, encouragement or incentives.
There are good reasons to make a start now, though, and not just for those in the US. First, and most obviously, the risk and impact of supply chain disruptions – whatever their cause – is clearer than ever following the pandemic and subsequent issues. Responsible businesses can no longer ignore them.
Related to this, it's not just regulators that businesses will answer to, but investors and other stakeholders. As a Morningstar analyst notes, "'[S]upply chain issues' are front and centre in most investors' vocabulary".
The pressures are also here to stay. That's true for the short term in other industries, with issues expected to persist through 2022, but particularly for pharma. As the US reports noted, the problems in the pharma industry predate the pandemic and won't disappear with it. Rather, traditional problems will again come to the fore. The May HHS report, for instance, noted that almost at least 63 per cent of US drug shortages between 2013 and 2017 could be traced back to quality issues.
Finally, of course, the reason to embrace it now is that those who do will gain a competitive advantage – boosting the resilience of their supply chains, keeping investors happy, and being better prepared for legislation and increased regulation when it does come.
Of course, we don't know exactly what will be required, and some of the proposed solutions require industry-wide or state action or both. The HHS, for instance, calls for better information sharing, integration and standardization across supply chains and to "leverage public-private partnerships to create a shared data infrastructure".
But, even here, there's value in individual businesses making a start. They can't, after all, share information and data that they don't have. SCAIR®can help them capture the information they will need on their suppliers and vulnerabilities. Likewise, the report calls for the development and use of predictive tools and risk assessments. It seems a fair bet they're going to increasingly expect that from businesses in future.
SCAIR® can help with this: identifying value at risk, calculating potential business interruption losses, estimating the impact of different threat scenarios, and mapping critical supply points, for example.
Regardless of what regulation demands, this is information businesses increasingly can't do without – and increasing numbers recognise it. The benefits and competitive advantage it brings provide a powerful incentive to embrace it. And for those who take the carrot, there'll be no need for the stick.
Contact us to find out how SCAIR® can help increase the visibility of your business' supply chain.